Trivia with Saint Joseph
Posted by

Categories

Front Page

Date

March 3, 2021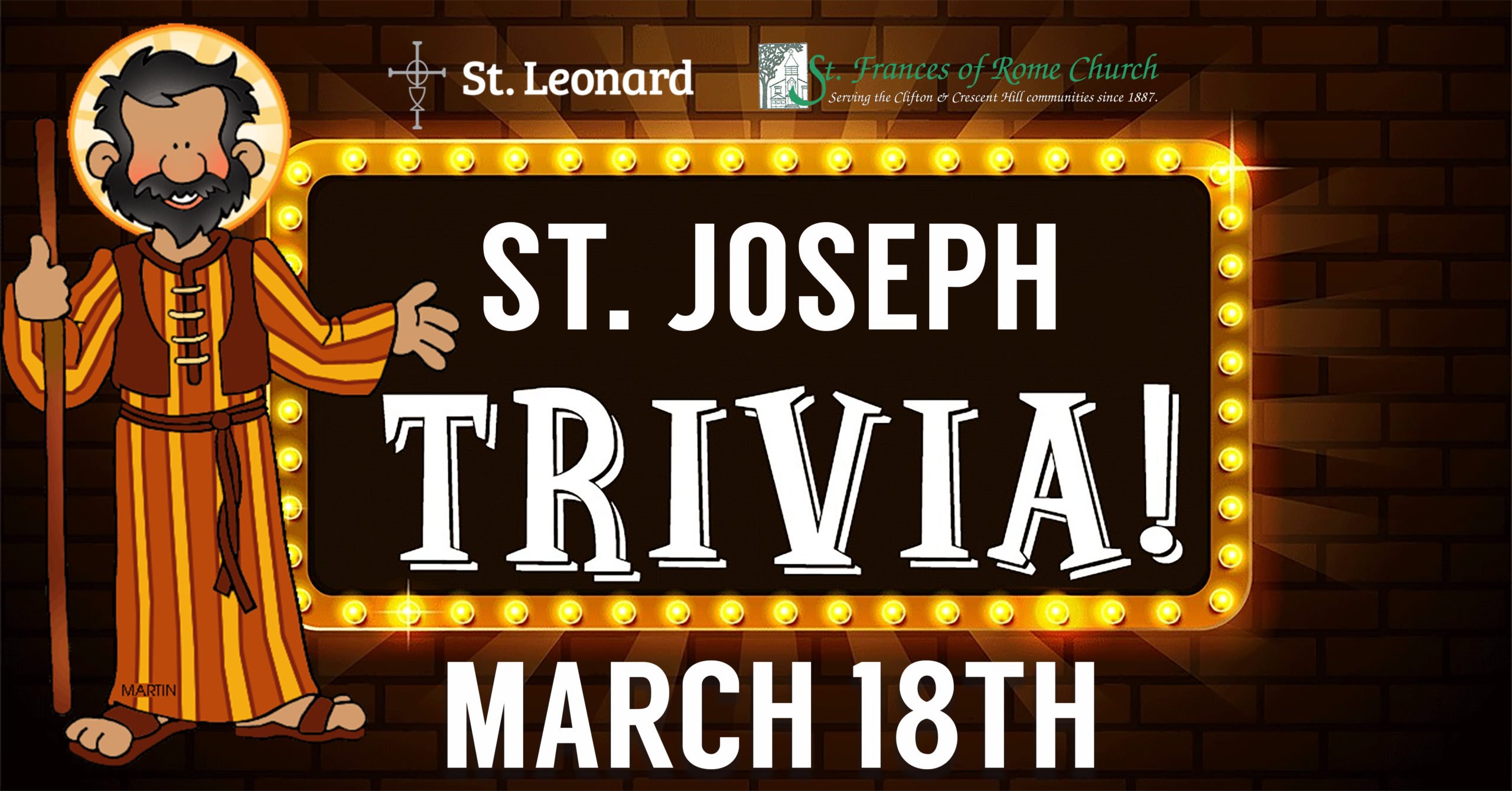 Beat the COVID blues with a trivia night!
Saint Joseph's feast day is coming, and our parishes are excited to celebrate with a trivia night.  We'll gather via Zoom at 7:00 pm on Thursday, March 18 (the Vigil of the Solemnity of Saint Joseph) for an evening of family-friendly, Joseph-themed, bar-style trivia hosted by Andrew Hennessy, our Director of Faith Formation.  All parishioners and friends of both St. Leonard and St. Frances of Rome parishes are invited.
What is Saint Joseph's favorite flower?
What do carpenters, confectioners, and Canada have in common?
Where is Joseph here in Louisville?
What other famous Joes can you name?
How will it work?
Play solo, as a single household, or on a team of multiple households (and computers).  Each team should please pick a Team Captain who is confident submitting answers digitally via either Google Form, email, or the Zoom chat feature during the game.  Don't forget to come up with an amazing trivia team name!
Our trivia game will consist of 4 rounds of 10 trivia questions each, for a nice round Lenten total of 40 questions.  Questions will range in topic and difficulty, but all kids and adults can expect to be alternately challenged and confident throughout the game.  Hint: families who attend the Family Gathering on March 14 will have a big advantage in round 1!
The winning team will receive a delicious Joseph-themed prize, but all players will be blessed by the chance to have fun with their parish family as we celebrate a pretty awesome saint.
How do I sign up?
Fill out the form at right to receive an email with the Zoom invitation and additional details about joining in.  Questions?  Please call or email the parish office for assistance.  We hope you'll join us!
Do YOU have what it takes to out-trivia Father Lou?
Join us and find out!