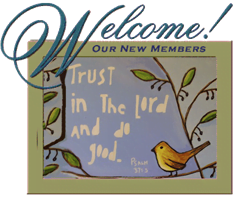 New Members are Welcome!
We would love to have you register with us!
If you are interested in joining the Parish, please click the link above to download New Member Registration forms. Fill them out and return them to the Parish Office. If you have questions, please call the office at 897-2595. You will be contacted and invited to attend a New Member Meeting in the future to learn more about our Stewardship and meet some parishioners.
Becoming a member page information
We have New Member meetings every few months on the first Sunday of the Month. Visitors can attend 10:00 AM Mass and then are welcomed to our First Sunday Doughnuts celebration to meet our members. Please contact the Parish Office at 502-897-2595 or stlparish@saintfrancesofrome.org for more information. If you would like to attend a meeting, please let us know ahead of time and we will meet you and guide you through.