134th Anniversary of the Dedication of St Frances of Rome Church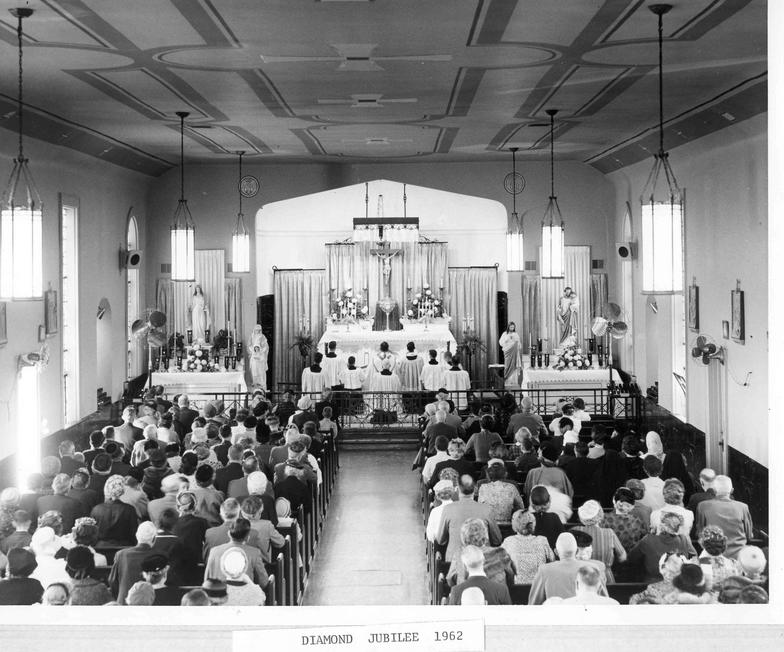 October 2, 1887
On the 9th of November the Catholic Church will celebrate the dedication of the cathedral church of Rome. It was on that day in 324 AD that Pope Sylvester I consecrated the basilica of the Lateran Palace given to him by the emperor Constantine as the Domus Dei, the House of God. That event is considered so important it is celebrated as a feast day throughout the world. While not nearly so ancient or so grand as what is now known as the Archbasilica of St. John Lateran, this week the community of St. Frances of Rome celebrates the feast of the dedication of our own church 134 years ago. In a way it is our birthday as a parish, and like our own birthdays it is a time to celebrate, to look back at where we come from and forward to where we are going. So Mass at St. Frances this weekend will be a little different from Mass at St. Leonard. The scriptures and prayers will be from the Mass for the Dedication of a Church. And we will give thanks for the gift of this place of prayer and worship of God, given to us by a group of farm families outside the city of Louisville in 1887.
-Fr Lou
These are excerpts are from the following book:  Father Jerry Eifler, Steve Wiser and Charles W. Beckman, Sr. (2007) St. Frances of Rome Church Community; An Illustrated History. Louisville, KY: Four Colour Imports
St. Frances of Rome Church was formally dedicated on October 2, 1887, on the Feast of Our Lady of the Rosary.  The original church was constructed for a cost of $5,000, and built of wood with a stone foundation.  It was only 90 feet in length.
This is a description of that October 2 day in 1887.  (Author Unknown)
"After months of hard work, planning, and hoping, the church of St. Frances of Rome was ready to be dedicated. " The locals newspapers' headlines read, 'Bishop McCloskey will dedicate St. Frances Church on Payne Street today.'  "Weather on the day of the dedication was fair, with warm temperatures and light southerly winds."
"The Rt. Rev. William G. McCloskey, fourth bishop of Louisville, who was consecrated in May 1868, would arrive soon with Revs. P.M.J. Rock, P.J. Haesley, Edward S. Fitzgerald, Edward Joseph Lynch, and Patrick John Walsh, at 9:30am.  They promptly installed their vestments in the sanctuary of the church.  As the clock struck ten, the Rt. Rev. Bishop McCloskey, accompanied by the Revs. Fathers Haesley and Lynch as deacons of honor, the Rev. Father Walsh as celebrant of the High Mass, the Revs. Rock and Fitzgerald, deacon and subdeacon respectively, and the seminarians of Preston Park, entered the sanctuary and proceeded to dedicate to the service of God the new church."
"Immediately after the blessing, Solemn High Mass was sung.  After the gospel, the Rt. Rev. Bishop preached the sermon in which he congratulated the pastor and people upon the work just accomplished, praised their zeal and energy, and wished them God speed in their future efforts to diffuse the spirit of the Catholic religion."
"Eichhorn's band, which was considered the best in Louisville since it had been selected to play for President Grover Cleveland's visit in August 1887, was in full accord.  A full choir, composed of members from the city churches, rendered effectively Mozart's Twelfth Mass."
"After the Mass, the parishioners all lined up to meet the Bishop and his associates.  Dinner was served by the ladies; the children would hardly settle down after seeing the beautifully decorated church and listening to the band and choir.  It was certainly a day to be remembered by one and all.  Both the pastor and parishioners were overjoyed with the grand celebration on this occasion by having with them the seminarians of Preston Park Seminary."