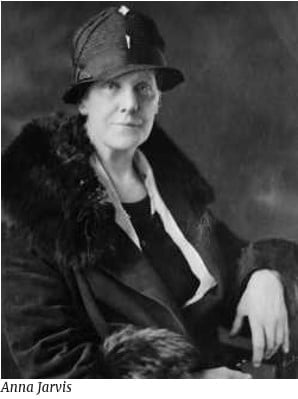 In the 1920's, just a few years after it had become a national holiday, a woman named Anna Jarvis organized protests and boycotts against Mother's Day. In fact she spent most of the rest of her life fighting against Mother's Day, finally organizing a petition to get it legally rescinded. What had Jarvis so upset about Mother's Day? Three things: cards, candy, and carnations. Almost as soon as the movement for a holiday celebrating mothers spread around the country, and later the world, Hallmark saw an opportunity for profit, followed in no time by candy manufacturers and florists. Jarvis wanted people to celebrate their mothers personally, not with pre-packaged words.
"A printed card means nothing except that you are too lazy to write to the woman who has done more for you than anyone in the world. And candy! You take a box to Mother—and then eat most of it yourself. A pretty sentiment," she said. As for the carnations, they were co-opted by florists and organizations that used them for fund-raising. Jarvis wanted people to write to their mothers in their own words if they couldn't visit in person. Of course there was something coming along at this time that changed things a bit. I remember my own mother talking about her time as a telephone operator in the 1950's, when there was one day that everyone had to work. Mother's Day. It seems a lot of people took Jarvis to heart, even though few, if any, knew it.
And I think that "in your own words" rule is a good rule of thumb for prayer as well as Mother's Day. Just as there are many ways to express love on Mother's Day, there are many ways to pray. And while I would never suggest something like the Hail Mary is the equivalent of the commercialization of Mother's Day that had Jarvis so upset, I think that prayer in your own words needs to be one of the primary ways to pray. So as we celebrate mothers in these days, it might be a good time to reach out in prayer to our mother Mary in our own words. And to her son Jesus too.
As for Anna Jarvis, what is she most remembered for these days? She founded Mother's Day in 1907.
-Fr Lou