Of Hammers and the Pope's Bull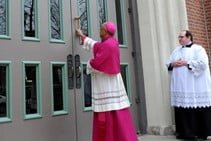 As I am sure it will not surprise you, I'm endlessly fascinated by the ways that we as Catholics pray and celebrate without words. Or beyond words. I find it very human. And the installation of an archbishop is no exception.
The way of prayer that began the transition wasn't even a sight, it was a sound. Those of us gathered in silence in the cathedral to pray vespers heard three knocks echo through the space. It was Archbishop Shelton, using a large wooden mallet to knock on the massive doors of the cathedral asking for entry. It is a ceremony that goes back to the middle ages marking a new bishop taking possession of a cathedral from the previous bishop. It doesn't have words, just the knock, the opening doors, and the embrace of two bishops.
But the action central to Archbishop Shelton becoming our bishop in Louisville involved a bull. Namely a papal bull. It's the name for a document from a pope that carries the pope's seal (in Medieval Latin, bulla.) In the case of a bishop it is an appointment to a particular diocese. (In the case of Henry VIII it was his excommunication.) After the papal nuncio presents the document to the new bishop the ritual calls for the bishop to show it to the college of consultors (a group of priests who have the legal responsibility of helping to govern the diocese.) I suppose in the old days it was so they could authenticate the seal and therefore the document. These days, it seems a time for the consultors to smile a lot and nod. But after Archbishop Shelton had showed the bull to the consultors he kept walking. He showed it to everyone in the sanctuary. He left the sanctuary to show it to the deacons (because they were closest to the side stairs.) He made his was around the floor of the convention center around the altar showing it to all the parts of the congregation until he got to the side where us priests were. By this time everyone was standing and applauding. He was showing the bull to everyone. I heard a priest behind me say, "Well that's a new one." And it was.
Archbishop Shelton has been emphasizing that the Archdiocese of Louisville isn't a thing, it's a people. It's all of us. And there we were, in all our rainbow ethnicities, in all our languages, rich and poor, on feet and on wheels, LGBTandQ, looking at a document drawn up by the papal calligrapher, and a bishop calling us to truly be what we already are. For, as he reminded us in his homily, the celebration was definitely about a person, but the person was not him. It was and is Jesus Christ, in whom we all of us are sisters and brothers.
 -Fr Lou