Do you love the Mass?  Are you inspired by the beauty of the liturgy?  Do you feel called to participate more fully in our Sunday worship?  Read on to learn about liturgical ministry opportunities at St Frances of Rome Parish.
Sacristans
Sacristans are responsible for setting up before and cleaning up after Masses.  They participate in the daily and weekly maintenance of the sacristy, liturgical vessels, and sanctuary.
Altar Servers
Altar Servers assist the priest before, during, and after the celebration of the Mass.  Through their special involvement in the liturgy, altar servers are called to become closer to Jesus in the Eucharist.  Altar servers also have the unique opportunity to model prayerfulness and active participation for the assembly.
Boys and girls from 4th grade to adulthood are eligible to become Altar Servers at St Frances of Rome, and experienced altar servers are invited to help as thurifers and at special liturgies such as weddings and funerals.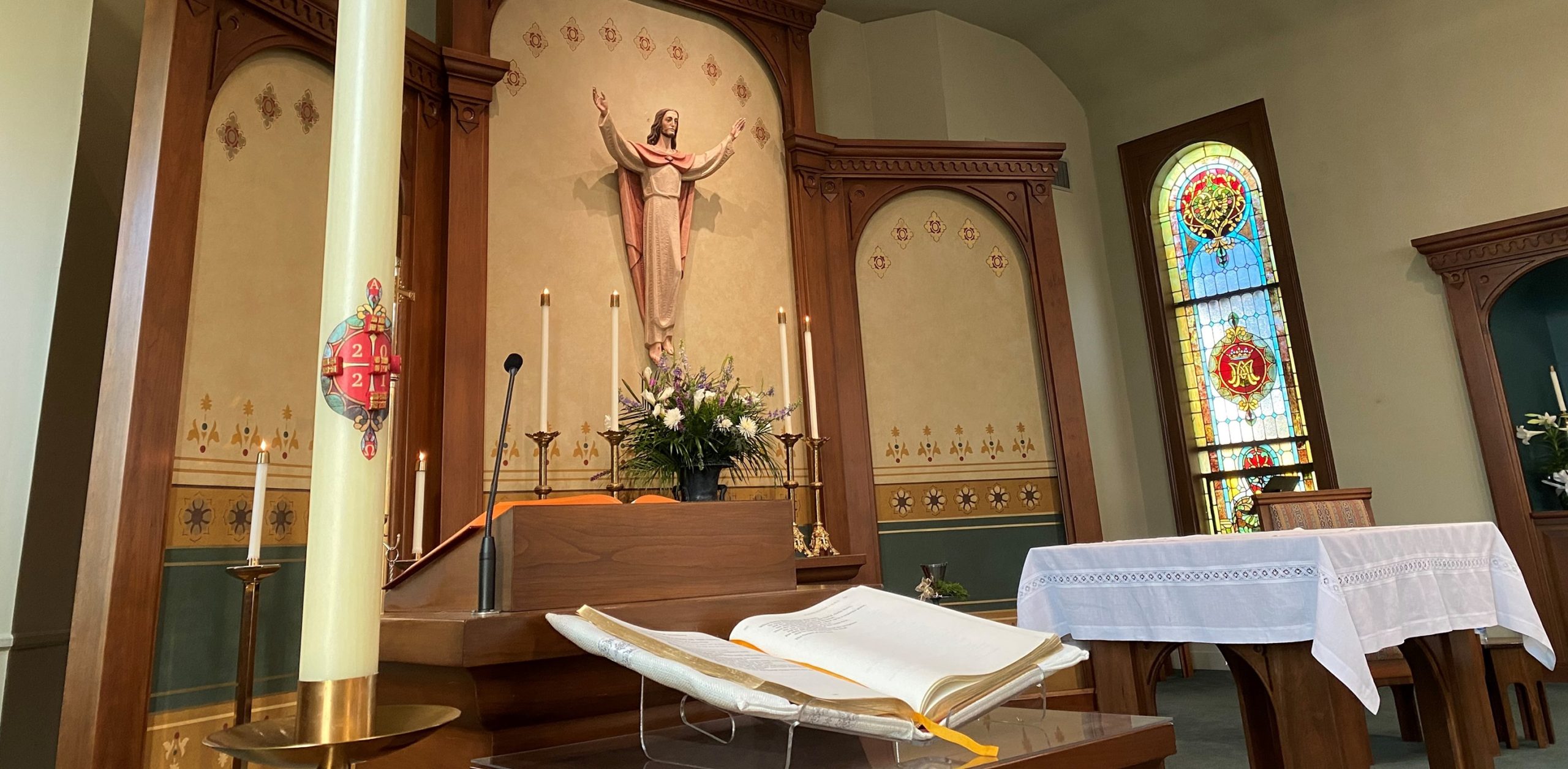 Lectors
Lectors proclaim the First and Second Readings of the Liturgy of the Word, and they also assist with the Universal Prayer and end-of-Mass announcements.  Lectors should have a deep reverence for Scripture and a desire to share God's Word with others, both through the liturgy and the witness of their lives.  In order to proclaim Scripture most effectively, lectors should be articulate public speakers who are committed to personal prayer, practice, and ongoing formation to hone their craft.
Active, fully-initiated Catholics (have received Baptism, First Communion, and Confirmation), in high school and above, are eligible to become lectors at St Frances of Rome Parish.
Extraordinary Ministers of Holy Communion
Extraordinary Ministers of Holy Communion (EMHCs) are laypersons who assist the Ordinary Ministers (deacons, priests, and bishops) with the distribution of the Body and Blood of Christ to the faithful during Mass.  EMHCs should nurture a strong belief in the Real Presence of Jesus Christ in the Eucharist as well as a deep love for the Sacrament.  Through their ministry as EMHCs and their personal witness, EMHCs help the community of the faithful to grow in charity.
Active, fully-initiated Catholics ages 16 and up who are committed to lives of holiness are eligible to become EMHCs at St Frances of Rome Parish.  New EMHCs must first complete the Communion Ministers Formation program through the Archdiocese of Louisville, and experienced EMHCs must renew their certification with the Archdiocese every 5 years.  
EMHCs for the Homebound
The ministry of Communion to the homebound is a ministry of outreach to those parishioners who, for medical reasons, are unable to attend Sunday Masses regularly.  St Frances of Rome EMHCs bring Holy Communion to homebound parishioners as well as to Catholic residents of Sycamore Heights Care Center.  Through this ministry of compassion, EMHCs bring the presence of Jesus Christ to the homebound in a very tangible way, a beautiful reminder that the sick and elderly remain within the loving embrace of our parish community.
Experienced EMHCs are eligible to become Ministers of Communion to the Homebound at St Frances of Rome. 
Ushers and Hospitality Ministers
Through this ministry of hospitality, ushers and hospitality ministers build relationships with fellow parishioners, welcome visitors, and contribute to helping the liturgy to run smoothly each week.  These volunteers should have a heart for evangelization and enthusiasm for growing our parish community.  Ushers and hospitality ministers must commit to arriving early to Mass and serving as a consistent, inviting, and knowledgeable presence in our worshipping community.
Ready to get involved?
Please reach out to our Pastoral Associate, Sharon Coonan, at 502-896-8401 or via email with questions or to volunteer to serve at our liturgies.