St Frances of Rome Parish was named in honor of St Frances of Rome, called to be in service to others, our Parish is an inclusive, welcoming Roman Catholic family challenging ourselves to seek, experience, and share the loving presence of God.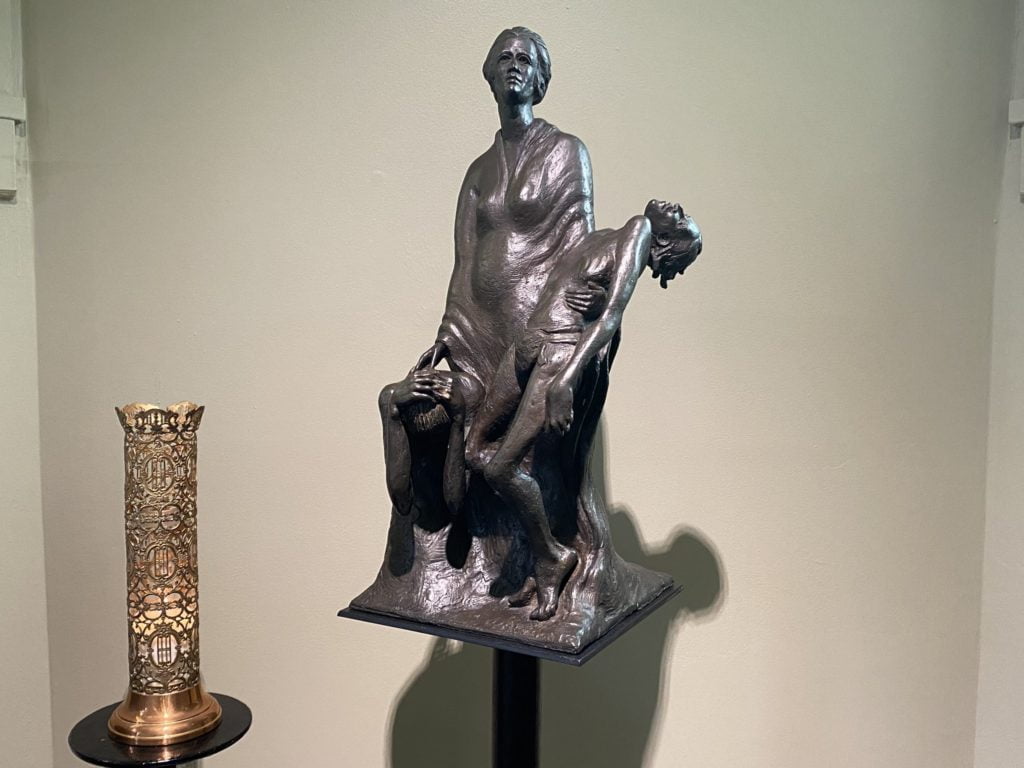 St Frances of Rome
St. Frances of Rome is one of the great mystics of the 15th century. She was born in Rome to a noble family in 1384 and died in Rome on March 9, 1440. Her parents were very wealthy.
She wanted to enter the convent at the age of 11, but in obedience to her parents, she instead married at age twelve to a young nobleman named Lorenzo Ponziani, Commander of the papal troops of Rome and member of an extremely wealthy family.
Although the marriage had been arranged, it was a happy one, lasting for 40 years, partly because Lorenzo admired his wife, and partly because he was frequently away at war.
Frances was a good wife and homemaker, and the mother to three children. Frances experienced many sorrows in the course of her marriage with Lorenzo. They lost two of their children to the plague. This experience it sensitizes them to the needs of the poor.
Lorenzo was away defending the pope in Rome and against various anti-popes in Great Schism of the Catholic Church. While he was gone, his property and possessions were destroyed. Lorenzo was wounded so severely that he never fully recovered, dying in 1436. Frances nursed him throughout the rest of his life.
Frances had the gift of miracles and ecstasy. Although a mystic, she was also in touch with reality and what was happening in the world. Frances prayed, visited the sick and took care of the sick, and convinced wealthy women of the city to do the same. She turned part of her estate into a hospital.
Frances was known for her works of charity to the poor and her zeal for souls. Frances cared for victims of epidemics (lost two children with the plague) and wars (Her husband severely wounded.) Both of these were frequent events in the 15th century. Frances sold all her possessions to raise funds so she could care for the sick. Frances accepted her losses as the will of God, and blessed His holy Name.
On the feast of the Assumption of Mary, August 15, 1425, Frances founded the Oblates of Mary, a lay confraternity of pious women, attached to the Church of Santa Maria Nova in Rome. Neither cloistered nor bound by formal vows, they could follow her pattern of combining a life of prayer with answering the needs of their society.
In March 1433, she founded a monastery in order to allow for a common life by those members of the confraternity who felt so called. This monastery remains the only house of the institute, and is called the Oblates of Saint Frances.
When Frances's husband died in 1436, she moved into the monastery and became the group's President. She died in 1440 and was buried in that Church. On May 9, 1608 she was canonized by Pope Paul V, and in the following decades a diligent search was made for her remains, which had been hidden due to troubled times in which she lived. Her body was found April 2, 1638, and reburied March 9, 1649, which became also her feast day.
In 1925 Pope Pius XI declared her patron saint of automobile drivers because of a legend that an angel used to light the road before her with a lantern keeping her safe from hazards.
-From Father B.J. Breen's Homily on the Feast Day, March 9, 2012
Our parish community celebrates our patron, St Frances of Rome, in a special way at Masses each November (her feast day is March 9th).
 

We also remember her especially as we support United Crescent Hill Ministries, and offer special prayer intentions up for her intercession near her beautiful statue in our parish church.

 

Saint Frances of Rome, pray for us!

 

Click below to learn more about this extraordinary saint.