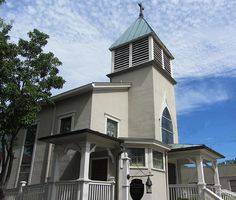 St. Frances of Rome was built along the north side of Payne Street at Cavewood Avenue (now called Clifton Avenue) and dedicated on October 2, 1887, the Feast of Our Lady of the Rosary. The founder and first pastor was Fr.Thomas White. The Rt. Rev. William G. McCloskey, fourth bishop of Louisville, presided over the dedication service.
October 2, 1910 – St. Frances of Rome celebrates its 23rd anniversary of its dedication, but also celebrated a notable extension made to the church.
March 19, 1912 – a damaging fire occurred at the church, but much was saved and following the fire another addition was added to the church. St. Frances of Rome Church became the first church in Louisville to be stuccoed.
September 7, 1918 – Father White passed from this life at the age of 60.
September 16, 1918 – The Rev. John Henry Riley, Pastor of the Church of the Annunciation of the Blessed Virgin Mary in Shelbyville, KY, was appointed pastor of St. Frances of Rome Church. Father Riley organized the Clifton-Crescent Club, a monthly Parish bulletin, and started a building fund for a new church.
St. Frances of Rome circa 1900.
January, 1927 – Rev. Bernard J. Boland appointed pastor at St. Frances of Rome.
May 4, 1930 – The dedication of the new St. Frances of Rome School building, given by the Rt. Rev. Bishop John A. Floersh. Father Floersh eventually went on to found Holy Spirit Catholic Parish on Lexington Rd.
September, 1937 – the venerable old St. Mary's Church at 8th and Grayson, Louisville, KY, was closed and dismantled and the church was razed. The pews, alters, vestments, etc., were removed and used in various parishes in the Archdiocese.
Father Boland purchased the old organ of St. Mary's Church, along with all of her stained glass windows. These windows were repaired and fitted for St. Frances of Rome Church.
In 1939, Rev. Charles G. Maloney was appointed as a new assistant of St. Frances of Rome. He eventually became the Auxiliary Bishop of Louisville.
1945 – World War II ended with 272 men of St. Frances of Rome Church in the service of their country.
Diamond Jubilee in 1962.
June 3, 1951 – Msgr. Boland celebrated his Golden Jubilee in the Priesthood.
1952 – The Parish purchased a house at 2252 Payne Street, which was to become the first convent for the Sisters teaching at St. Frances of Rome.
March 7, 1955 – Msgr. Bemard J. Boland died at the rectory, after 54 years in the Priesthood (27 of those at St. Frances of Rome Church.) Father Lawrence C. Kieffer was then appointed the administrator.
July 17,1956 – Rev. Joseph J. Rives was appointed pastor of St. Frances of Rome. September 30, 1962 – The Diamond Jubilee, the Seventy-Fifth Anniversary of the founding of St. Frances of Rome was celebrated with a Parish Day.
June, 1968                            Fr. Rives resigned pastorate
June 15, 1968                       Fr. Dearing named pastor
January 3, 1969                   Fr. Dearing departs active priesthood
January 4, 1969                   Father Jim Ryan appointed pastor.
December 28, 1973             Fr. Ryan dies at age 49
January, 1974                       Father Richard Fowler named pastor
April 3, 1974                          Tornado hits Crescent Hill
1975 – The St. Frances of Rome School which was housed in the Clifton Center for 45 years closed.
May 5, 1982                          Fr. Fowler dies
June 16, 1982                       Father Richard Friedrich named pastor
March 27, 1989                    Father Richard Friedrich dies
May 15, 1989                        Ms. Leslie Wilson appointed lay administrator
June 15, 1989                       Father John G. Eifler named pastor
1989 – St. Frances of Rome and a few community leaders began to restore the Clifton Center theatre and it was incorporated as a nonprofit organization to continue the renewal of the building and its role in the community. The Center began a long-term lease from the Archdiocese of Louisville to operate the building.
1991                                       Church interior and exterior renovated
September 6, 1999              Last Labor Day Picnic
21st century entrances and parking for all.
Today, in addition to its public role as the Clifton Center, the building continues to be used for educational programs and gathering space by the community of St. Frances of Rome, our neighbors and partners in the renovation of the facility.
June 20, 2007                        Fr. Jerry Eifler retires
June 20,2007-2008              Fr. Dale Cieslik is Pastor
June 2008                              Fr BJ Breen assigned Pastor
2012                                       Dedication of the 2 Historical Markers and 125th celebration of the parish
June 2017                               Fr BJ Breen retired
June 11, 2017                         Fr Lou Meiman assigned Pastor
December 31, 2017               Closing of the Clifton Center
July 28th, 2019                      Sr. Carmelita Dunn retires
May 27th, 2021                    Celebration of Fr Jerry Eifler's 60th anniversary ordination
After Vatican II, a lay advisory board, later known as the Parish Council, was established, and RCIA programs began in the early 1980s.  Many ministries have been developed as parishioners respond to their baptismal call, including the "Rome 'n Seniors" for active seniors and the "Social Justice Group" social concerns ministry.
The Second Vatican Council inspired greater involvement of the laity.  With the leadership of a talented staff and committed parishioners, programs of lifelong formation have taken root.  The parish family continues to embark on updating facilities and dedicating itself to faithful stewardship of its time, talent, and treasure.
St Frances of Rome Parish at Archdiocese of Louisville website